Why Buy at Online Auction?
You may wonder why you should choose to buy by online auction, versus the option of traditional auction, estate agent or online estate agent. Below we have outlined the benefits of our Online Auctions for buyers.

Exclusivity
Unlike a normal property auction where you exchange on the fall of the hammer, online auctions instead provide an exclusive Option to Buy when the virtual hammer drops. This exclusive period allows you an uncontested opportunity to acquire the property, with a timescale of 28 days to exchange contracts.

Success
With buying through an estate agent, you are always at risk of being gazumped at the last minute. Online auction avoids this risk with the exclusive Option to Buy period, and if the seller changes their mind during this time, you will receive your deposit back in full.

Speed
As with a traditional auction, the buying process is quick with set timescales in place. Once the auction ends, you then have 28 days to exchange, and 28 days to complete after that. This means you could be getting the keys to your new home in only eight weeks after the hammer falls.

Variety
Online auction is primarily used to sell the types of property you would not otherwise see in the auction room, including mortgageable residential houses, flats and bungalows. And with the added timescale, it gives you the opportunity to organise any long term finance you may need.

No Surprises
The online bidding process, terms and costs involved with the purchase are transparent from the start, so you won't have any nasty surprises. It is also a fair and level playing field, as the bidding system is open and transparent.
Cost to Buyers
When buying a property, it is vital to know your budget to avoid any pitfalls down the line. Auction House wants to help buyers with their purchase, which is why our fees are always clear from the outset. For Online Auction, you need to plan for the following costs.

Reservation Deposit
If you are the winning bidder, you will need to pay a Reservation Deposit of 5% of the purchase price (minimum of £5,000), within 24 hours of the auction ending. This deposit is held by Auction House. If the seller fails to proceed with the purchase, your deposit will be refunded in full. If you fail to meet the terms of your Option to Buy, you forfeit the Reservation Deposit.

Buyers Premium
Along with the deposit, you will also need to pay the Buyers Premium for the property. This amount is disclosed in the exclusivity agreement, which you will have agreed to prior to bidding. This fee will be retained by Auction House when the deposit is paid over to the seller's conveyancer.

Other Costs
As with all house purchases, there are other fees incurred through professional services, such as conveyancing, surveys and costs related to obtaining a mortgage, as well as standard fees such as Stamp Duty.
Ways to Bid at Online Auction
We have developed our online bidding platform to be intuitive and easy to follow. You also have the reassurance that you are using a platform that is safe and secure, operated by the UK's number one property auctioneer.
As with our traditional auctions, you will be able to find information such as property details, photographs, and documents such as searches where available. Properties will have Open House viewing sessions available prior to the auction starting, to allow you to look around the property. The auction runs for seven days until the finishing time. The system will extend the time by 60 seconds after a bid to allow for final bidding until the highest bid stands uncontested.
To bid in our online auctions, you need to register and complete a passport to bid. This includes providing a valid email address and mobile phone number (both of which will need verification) as well as agreeing to the terms and conditions of our online platform.
There are two ways to bid in Online Auctions.

Live Online Bidding
Once you have registered to bid, you can watch the auction countdown online, and place bids live to ensure you are the winning bidder.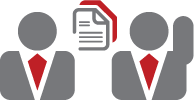 By Online Proxy
If you are unable to bid live, you can pre-submit your highest offer. The proxy bidding is regulated automatically by the auction platform, and you will be notified if your proxy bid has met the reserve price.